31 January - January Summary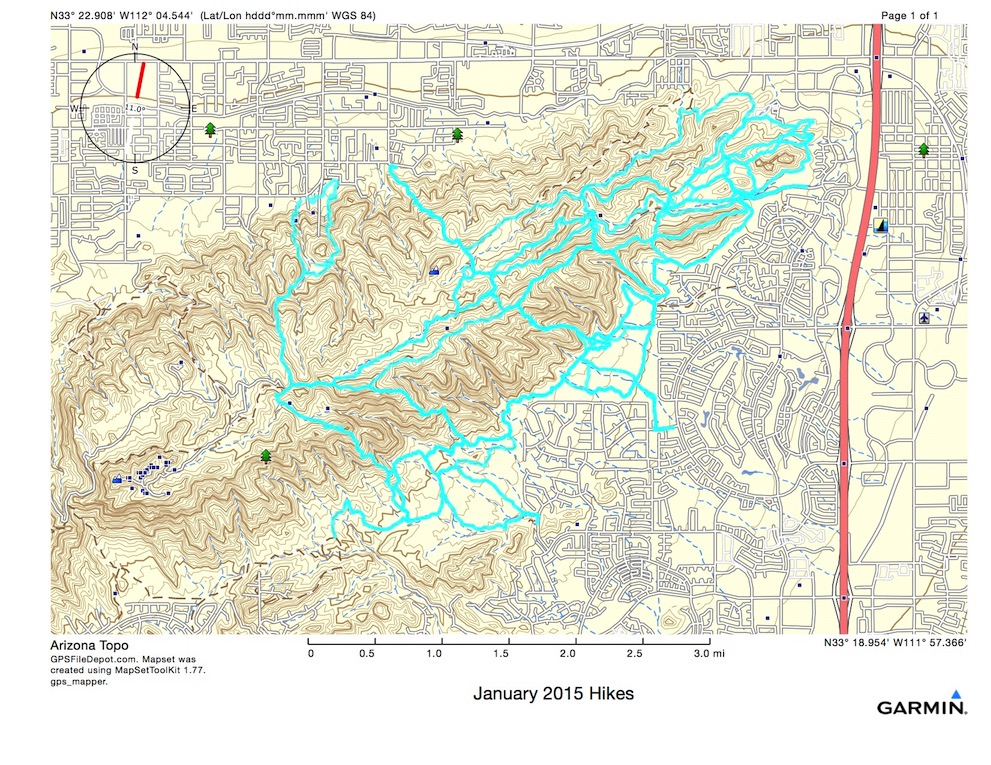 This picture shows what I hiked in January 2015 at South Mountain - all the cyan lines.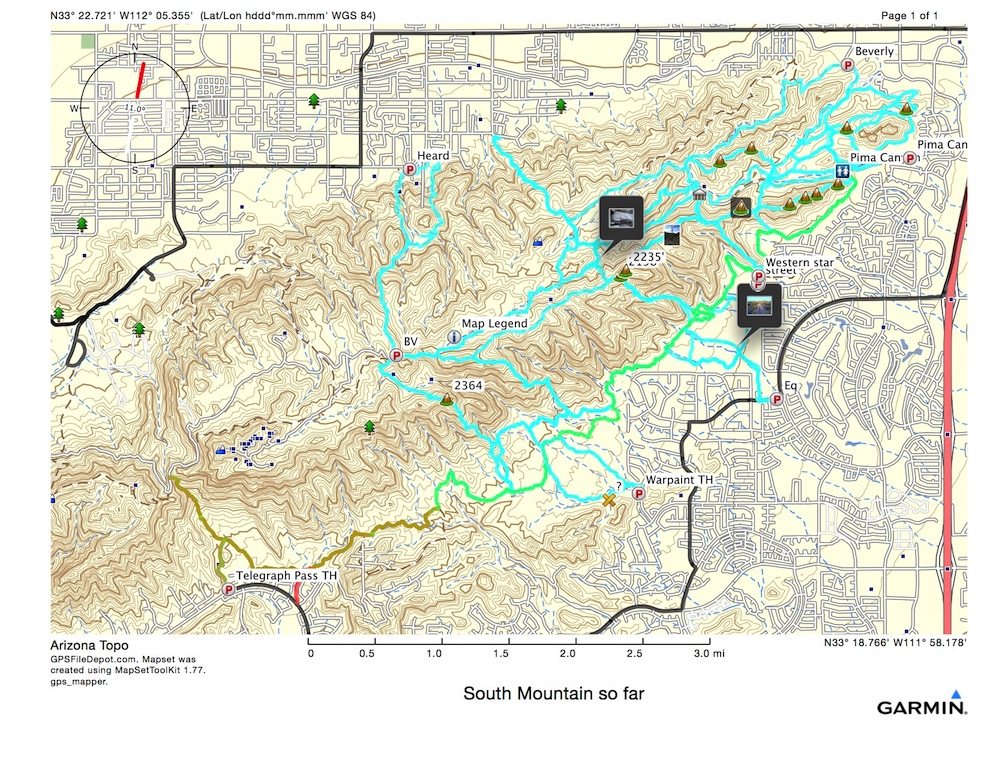 This picture adds in what I hiked In December - the green. I think I have everything in the eastern part of the park. Now to finish this park off before I start in the Superstition Mountains, farther east.

There are some pretty tough hikes shown above. Some are old trails, which still show up on the Arizona Topo, but aren't really open any more. I hiked them anyway. There is much more climbing and crawling through narrow tunnels than the map shows.


18 January 2015

I had a great week, and had already run 30+ miles when I woke up today. Now I'll admit, me trying to learn moderation at my age is akin to death row inhabitants getting religion, but I am trying to learn. So 30-35 is my self-imposed limit right now. And I decided to go hike South Mountain instead of run.

Last weekend I registered online with Maricopa County Community College and signed up to take Spanish 101. They wanted to charge me non-resident tuition of $1200 until I proved I live in the county. So I went to the school, and after a long line and several forms, found out that I have to live here a full year before they consider me a resident. So, I will learn Spanish some other way. I have 14 months!

I got kind of a late start today, staying home to write a couple of other e-mails before I headed out. On the way to the trailhead I filled my car with gas for $1.799 per gallon. :-) Then I went on to the the 24th street trailhead where I haven't been before. I went past dozens of cars parked along the road right to the small parking lot, foolish, I know, but just as I pulled in, a car backed out leaving me a perfect parking space. The universe provides what we expect.

I hiked up and up, and at a junction met a guy also trying to figure out where to go. He had just moved here from Utah. I had hiked more here than he had, so I shared with him my experience here in this park. I gave him my map printout since i had my good mapping GPS and he had nothing. He wasn't lost, really, and seemed like an experienced guy, but he didn't have a map.

Then I hiked on some more, through a place called Hidden Valley, that contained Fat Man's Pass. The Utah guy said it was kinda neat. And it really was. This was the best part of South Mountain Park I've seen so far.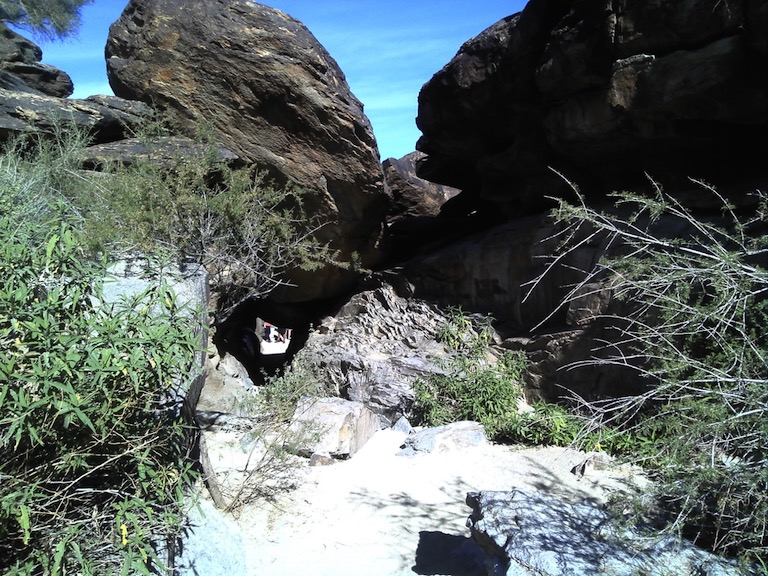 This is Fat Man's pass, after I hiked through it, looking back down through it, you can see the group of people chatting there.

Here is another nice spot, just above that pass: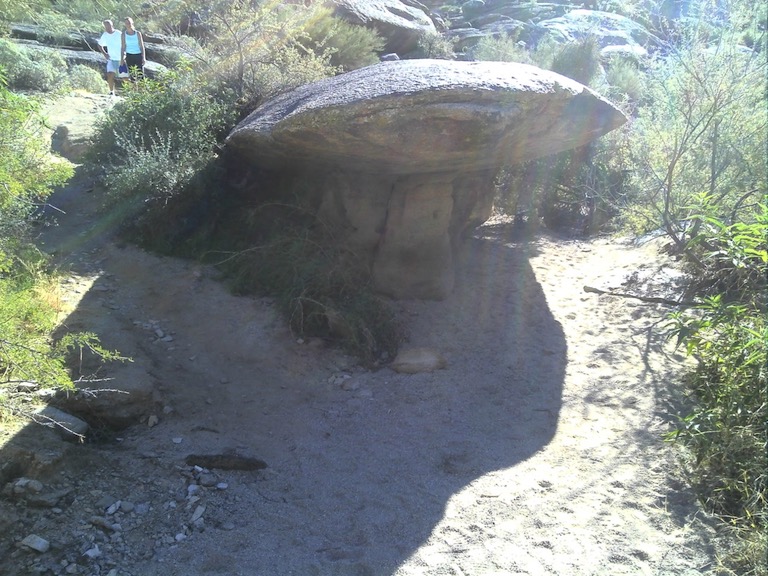 I got to a few steep places where I could once again simultaneously experience acrophobia and claustrophobia, and scrambled up and back down a few false leads. On the big expanses where bedrock is exposed, and there are no footprints to follow, it's a little hard to discern the trail.

One place where I was confused, a family came down and I was able to see where the trail went. The father, in the lead, was wearing what looked like a soft sampan hat, and it had a Russian army button on it - hammer and sickle. He had an accent, probably Russian. He said I could go around that part either way. On I went.

After hiking a small loop, which had been my objective, I started back toward the trailhead. Cresting, this was the view: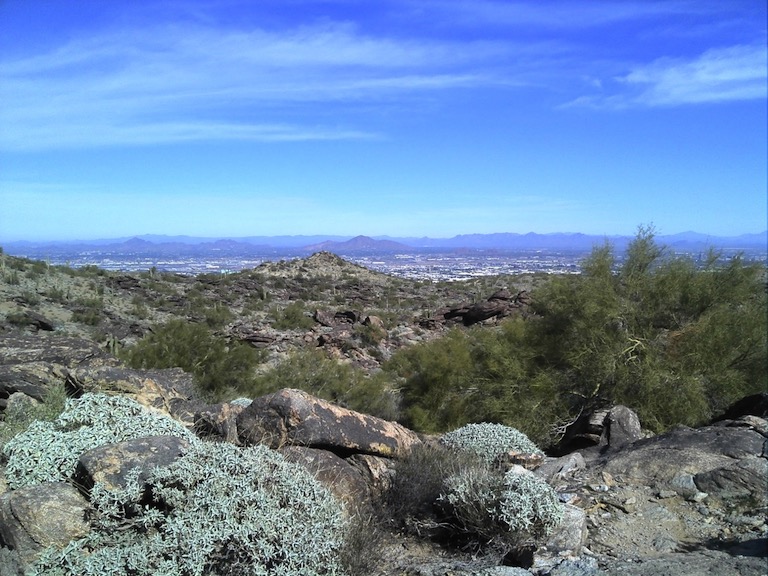 The camera in my GPS doesn't do justice to the view. I think that big reddish colored peak is what used to be called Squaw Peak. They changed the name to honor Lori Piestewa, a soldier. Specialist Lori Ann Piestewa was a U.S. Army Quartermaster Corps soldier killed during the same Iraqi Army attack in which fellow soldiers Shoshana Johnson and Jessica Lynch sustained injuries.

Don't you just wonder what the ancient prospectors must have thought the first time they crested this ridge, and saw the Phoenix metropolis laid out before their very eyes? You know, back in the early 1800s? Don't you just? I mean, really, you come up the climb, nothing but rock, dust, cactus, rattlesnakes and scorpions, dry as a popcorn fart, and then all of a sudden you see an Airbus 340 taking off below you? I'll bet the mules were spooked too.

A couple of mountain bikers caught me at the crest, and one of them stopped for a minute. They both were wearing "regular" bike helmets, and they both had what I would call full face shield helmets slung over their backs. I asked him why they had 2 helmets each. He told me that the Geronimo Trail, a little farther west, had some serious drops, and it was all rock. So if you fell over there, you need to have something protecting your face and chin. I'm hiking there next!

Anyway, heading back down to the car, about a mile above the lot, I came up on 3 people moving really slowly. Two girls (30s?) had been running, one missed a rock, and fell, landed on her right shoulder, and either dislocated or broke it. There was another hiker kind of guiding her along down the fairly steep trail. He (Eric) was Chinese. I asked if I could help and told them I am an EMT. So I went through the drill with her; she was not confused, she was oriented to place, time and person. Not bleeding, didn't lose consciousness, not dizzy, but in a lot of pain. I tried to immobilize the joint using my shirt, but it hurt her too much. The only thing she could tolerate was holding her right arm in place with her left arm. But she said it kept popping in and out. I figured the best I could do was stumble along behind them, letting Eric guide her down the mountain.

After a while we were caught by the guy with the Russian Army hat. He said he was a registered nurse, and he went through his drill. I was relieved that he came to the same conclusion as I had. Nothing to do but creep along and get her to her car, and her girlfriend would take her to the ER. The RN suggested I run down to my car with his 12 year old son, and send the boy back up with the Aleve I had there, so we took off. He gave her 2 Aleve and we all continued our walk back down to their car. I gave them a blanket to cushion her arm, helped Tamra into the back seat and buckled her in. She said "Meeting you was a painful experience" and I said "then quit looking at me."

And then I drove home to watch football.