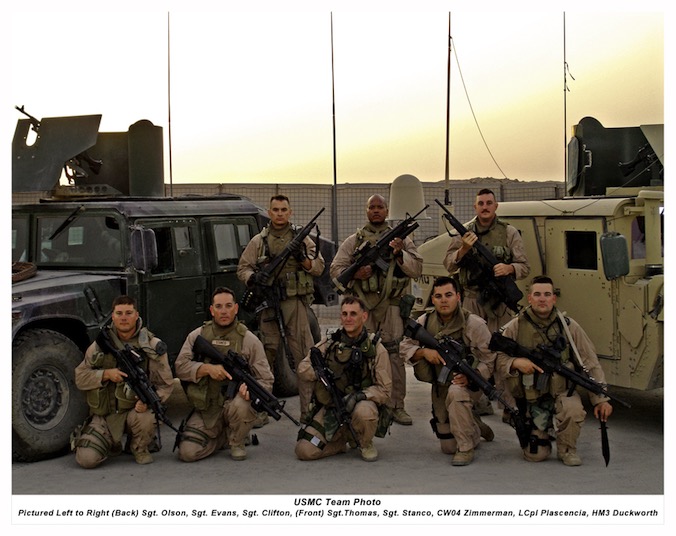 In 2006, I had the distinct privilege to meet one of our field engineers, Jerrol Olson. He was a USMC TPS-59 radar expert, a United State Marine in an inactive state, and was employed by our company to manage a TPS-59 radar for the USMC at Twenty-Nine Palms. In Desert Storm, Jerrol had driven a tank into Iraq in the invasion that drove the Iraqis out of Kuwait. In 2006, Jerrol felt responsible for the younger Marines, so he re-enlisted to take care of a group of even younger heroes and look out for them in Operation Iraqi Freedom.

While Jerrol was deployed on Military Duty leave from our company, I tried to help ensure that his pay and benefits were being deposited properly and that his family's needs were addressed. Jerrol and I began an e-mail relationship (we had never met each other) and he gave me permission to act on his behalf within the company. We began corresponding regularly, throughout his training and preparation period and beyond into his deployment. He was able to deploy with his own personal computer, and from within his base in Fallujah had access to the internet.

Jerrol's team was scheduled to perform a mission one day, as usual. The mission was scratched at the last moment, so the Marines took advantage of being ready for action and had a team photo taken (above).

On another (very special ) day, Jerrol flew a flag for me at Camp Fallujah - Independence Day 2006. He shipped that flag to me in a mailer box, with the certificate shown below, sealed with USMC green colored duct tape. When it arrived, and I cut the duct tape to open the box, sand fell out. I still have the box, and the sand that is still in it. The flag is in a shadow box with the certificate, never unfolded, and certainly has more Iraqi sand folded up inside it.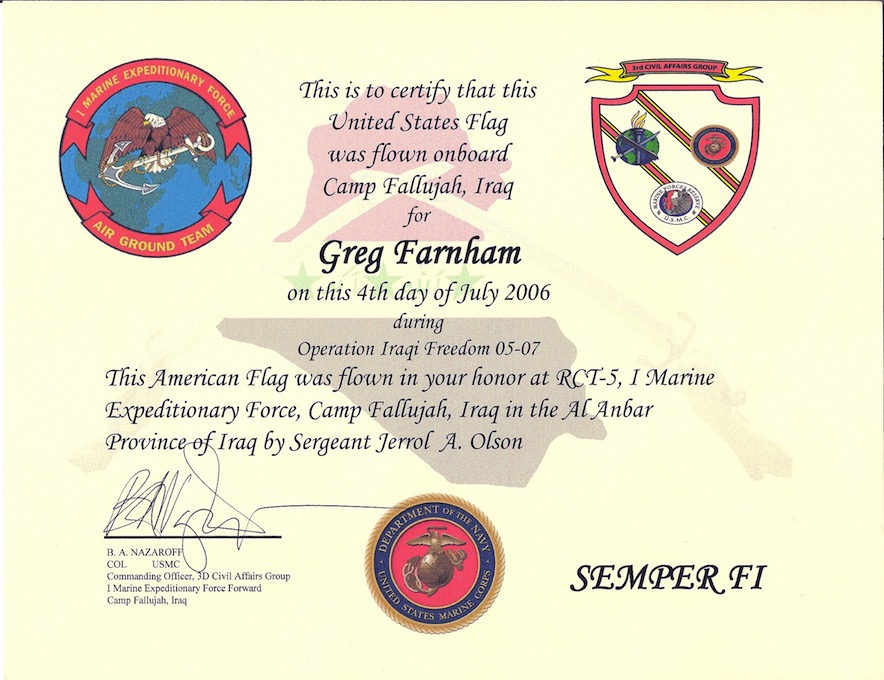 A few days before Jerrol was scheduled to rotate back to the continental US, his patrol, on a routine mission of civil affairs, which involved liaison with local Iraqi villages, was attacked from an overlooking ridge by snipers. Jerrol was the only casualty. He suffered being struck by an armor piercing round which exploded his right humerus (upper arm.) This probably prevented the round from entering his rib cage and destroying his heart and lungs. He was medivac'd to Germany and then Balboa Navy Hospital in San Diego, CA. Several days later, I flew to San Diego to meet Jerrol and his lovely wife, Rachel, in person for the first time. Jerrol has fully rehabilitated from this devastating injury and we remain friends. He has, and will always have, my undying gratitude for his sacrifice for our continued way of life here in this country. Jerrol, I owe you anything, anytime.