28 March 2016 - at sea

I awoke earlier than Les. He had to work late the night before and I don't know what time he came in. Our steward had made a little easter bunny decoration and placed it on Les's bed. The steward had also left us some culinary treats and a bottle of champagne, all thanks to the member of this cabin who holds Platinum status.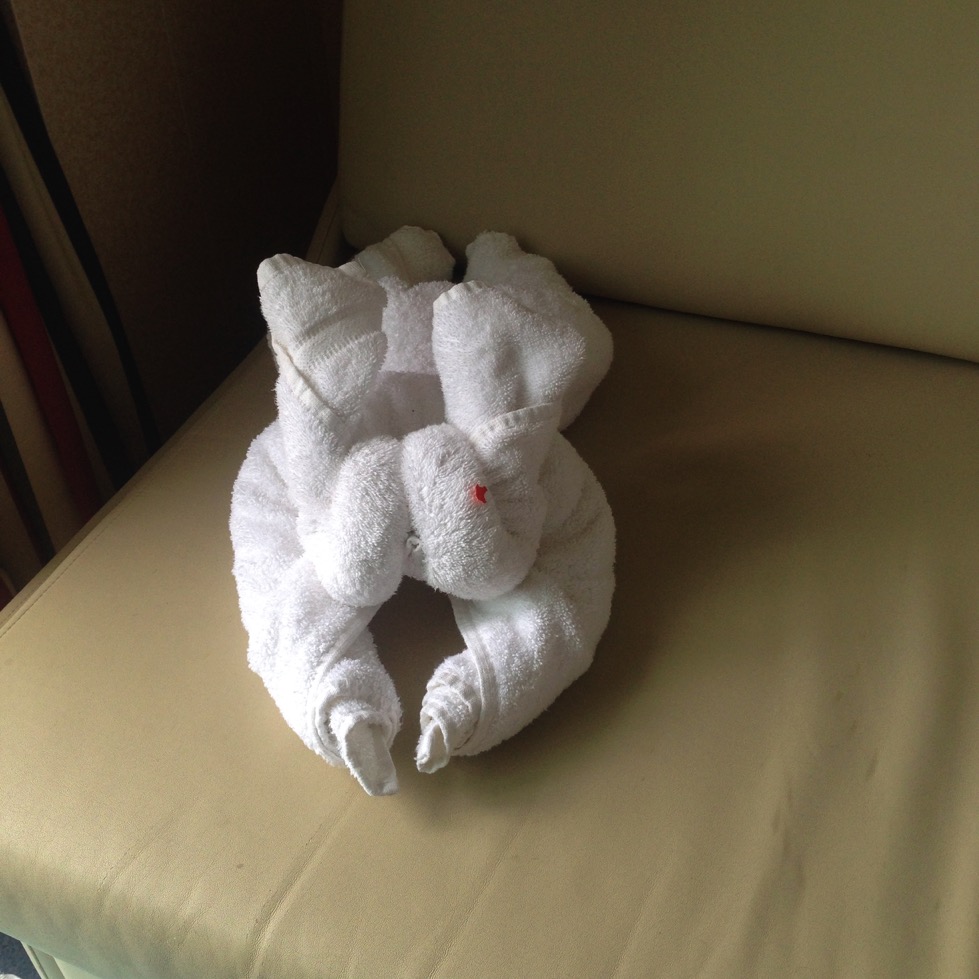 A different critter every night. This one had two eyes, but I lost one when moving it off the bed.


Today is an at sea day. Right now we are still 500 miles from our next port, Puerto Madryn, and we are traveling about 21 knots. It is also cloudy and windy. It must have rained or is still raining. During the night some pretty high winds must have knocked us sideways. I slept with the balcony door open until Les got back. I could hear the deck furniture being thrown around, and I once saw the painting on the cabin wall hang about 5" away from the wall at the bottom. It feels like riding on an airliner in a very turbulent descent.

After several pots of coffee and some fresh grapefruit juice, I went to work out. I rolled and stretched my calves, quads, adductors and lats. I did bridge, plank, side plank, dry backstroke, angel wings and back and side leg lifts - the full warm-up routine. The weight room was pretty full and had little room to lie on the floor. Then I found there was a large yoga studio next door, and few people in it. I moved in there for my balance drills, and some rudimentary exercise. The side to side motion of the ship made the balance drills pretty humorous for all onlookers.

Then I decided to run for a while. First, I ran with my GPS enabled, and turned in a new PR - a 2:21 mile, and it only took me about 300 meters to run a mile. Then I turned the GPS off and ran for a little longer. Then, I went to the hot tub. The hot tub was not very hot at all and I only stayed about 20 minutes. Back to the room for a shower, and then to the buffet for lunch. The buffet was very crowded and the food was not as much to my liking as yesterday. Trying to eat healthy consists of copious amounts of lettuce, tomato, onion, carrots and a little vinaigrette. Along with whatever lean meat (protein) was available. And some fresh fruit for dessert.

Our steward squeegeed our balcony for me today and it is nice and dry out here. The sun is now out and we are making about 21 knots. The sea and wind seem to have calmed somewhat from this morning. Tonight we are dining in the Italian restaurant, La Cucina, at 7. Courtesy of that platinum guy. Do they mean his hair color?

Last night when I came back to the room, there was a bottle of champagne on ice, and a plate of hand made chocolates. This afternoon there was another plate of chocolates. I don't know what happened to the chocolates that were on the first plate...;-)

Les was at work all afternoon. We had a free dinner, at La Cucina Italian restaurant. It was sumptuous. After that, I returned to the stateroom and Les went back to work. I wish him well.