30 March 2016 - at sea

This morning it felt like I had been drinking. It is amazing to me how much a ship this size seems to wobble. The wind and the waves combine to make you always feel out of balance. It's like being on an airliner flying through clear air turbulence. It never stops.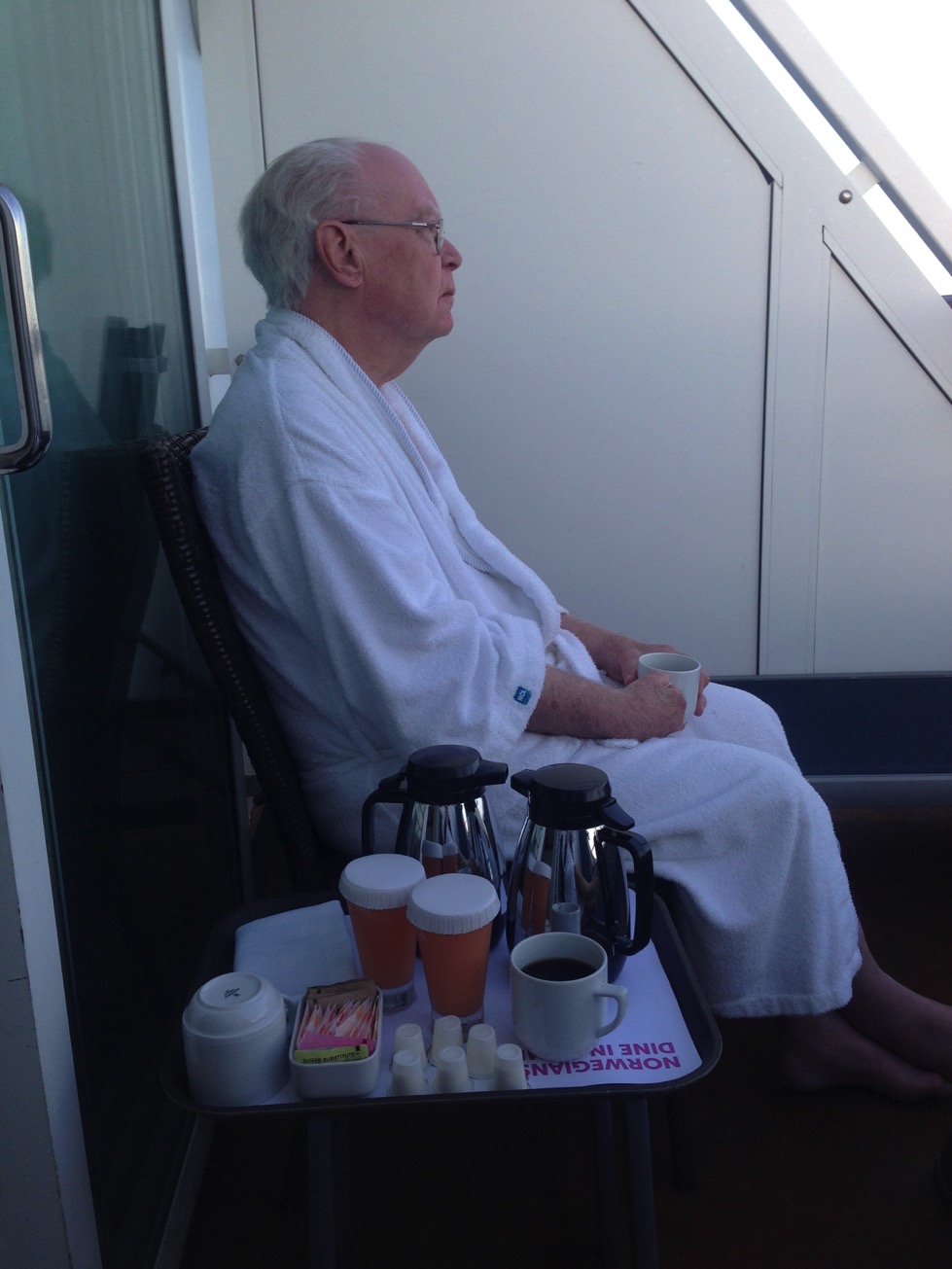 His platinumship. I think it's the hair. It's got to be the hair.


After some morning coffee, I headed to the gym where I rolled and stretched and warmed up for an hour. On my way there, a ship's crew member was standing at the landing on our deck in front of the elevators. She handed me a flyer about a massage special they have in the Salon. Then she started talking about seeing me run yesterday. After I thought about it, I guessed she was the one who was waving as I was running. She was Spanish and I didn't understand her completely. Anyway, she wanted me to book a massage.

Then I walked quickly on the deck 6 track for 30 minutes. Les and I had agreed to meet for lunch in the 7 Seas restaurant at 1145 and I needed to get cleaned up.

Lunch was terrific - chowder, a salad, penne with shrimp, and creme brulé with coffee. Sucker that I am, I had booked a massage for 2:30. Les went to work. Poor guy...

I had my massage and it was nice. Then the sales job began. I bought 2 bottles of "stuff" - one is for soaking in the tub, 3 capfuls and it relieves sore, achy muscles. Ana, the Spanish massage therapist, said my quads and hams are very tight and I am not stretching them properly. She also said I have tension in all my muscles and especially my shoulders. Anyway, since I bought the soak solution, I was entitled to book a time with her any day, every day, to use the big jacuzzi in the massage room for free. And I will.

It had really cooled off by the time my massage was finished. And we have now moved south of 48 degrees. Still another 13 hours of sailing until we reach Stanley.

I spent the afternoon updating these pages and drinking lots of water. Les wasn't hungry so I went to the 7 Seas solo. I had a really terrific dinner, good service, and then walked about a mile on the 6th deck. The ship is blowing its foghorn so there must be poor visibility. Of course, it is 9:31 pm and dark. We were watching the bow camera and saw them begin spinning the radar antenna, therefore we think it is a collision avoidance radar antenna, right on the bow.

We plan to go ashore in Stanley first thing tomorrow. At this port, we get transferred to shore via lifeboat - this is called tendering. Les's platinum status will let us cut whatever line there may be. We are hoping to get some fish and chips.

As I write this we are at latitude 49 degrees 23.059 minutes. We will begin the traditional rounding of the horn sometime in our sleep, when we cross the 50th parallel.