2015 March 11-12

Because I was worried about not being able to sleep on the ground while out in the desert, I couldn't sleep. I got up at 4, made coffee and headed to the trailhead, getting there just before dawn. It's only about 38 miles. The first 30 are on the freeway, but the last 8 are on a washboard of a gravel road that they grade almost every year. So the last 8 miles takes almost an hour.

Anyway, I got my boots and backpack on and headed out.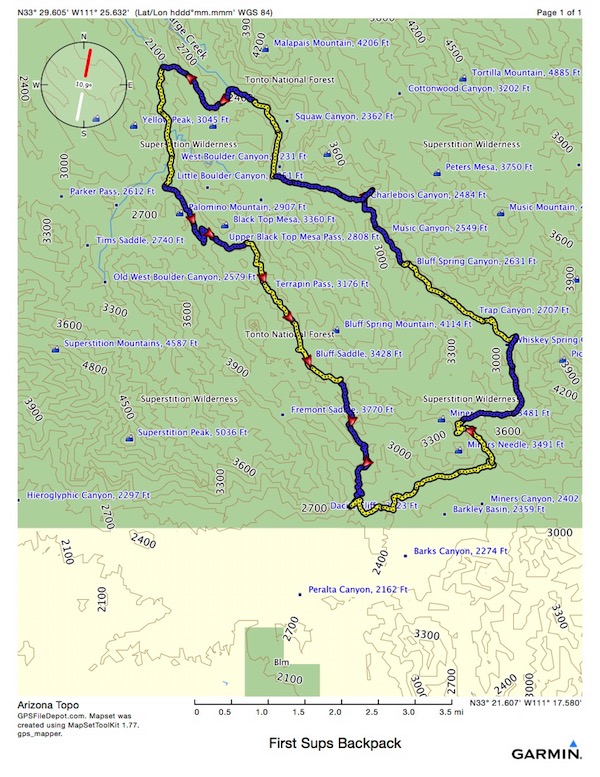 My counter clockwise route started at Peralta TH, at the bottom in the center. I ended up backpacking about 12 hours each day, which included time stopped for lunch both days and supper the first day. I hiked 13.6 miles Wednesday and then 12.7 on Thursday. I can't imagine the scenery to be any more impressive anyplace else in the world, but, since I live so close to the Grand Canyon, I'll have to go there soon and see for myself.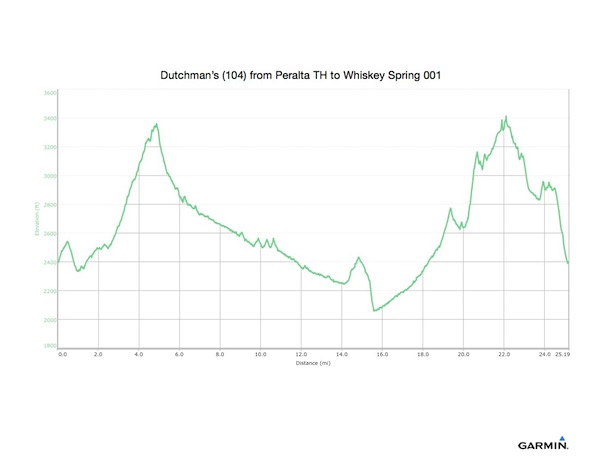 The first segment, in yellow on the picture above, was 4.4 miles on Dutchman's (104) from Peralta TH to Whiskey Spring.

Next, the blue segment of 2.1 miles on Whiskey Spring (238) from Dutchman's to Red Tanks.

Then, 2.4 miles on Red Tanks (107) from Whiskey Spring to Dutchman's.

Then, 3.4 miles on Dutchman's (104) from Red Tanks to Cavalry. Along here I ate supper, at Charlebois Spring, about 11 miles, 6.5 hours, and 1600' of ascent.

Then, 1.4 miles on Cavalry (239) to Boulder CV04 Campsite where I spent the evening. Total for the day - 14.69 miles, 8:09 moving time, 1808' ascent, and lying at 2277' elevation.

I ended up having an 'OK' night and sleeping, but if I hadn't been completely exhausted from no sleep the night before, and from backpacking all day, I probably would not have slept much. I woke up after 8, and boiled water for coffee while I packed things up. As I did, 2 ladies with a leashed shepherd walked by. I thought I heard a dog bark off in that direction (north) during the night, but I could have been dreaming it.

My second day, I was pretty sore. My feet were definitely tender. I had no blisters, but I could feel the irritation from the day before. My back was feeling it as well. As I started out, I thought today would probably be a very short day. I was already more than a day ahead of my plan anyway, so I thought maybe 4-5 miles today would be enough, and then I would try to find a comfortable way to spend the afternoon reading.

I headed out for the remaining 2 miles on Cavalry (238) from CV04 to Boulder Canyon.

Then, 2.1 miles walking up Boulder Canyon (103) from Cavalry to Dutchman's.

When I got to this intersection, I stopped to consider options. A nice fellow walking along with his dog on a leash stopped and we talked a while. He took his map out and suggested the same alternate route I was considering. He said he'd seen some people who had seen rattlesnakes and had pictures of them. He was worried about snakes because of his dog. I don't know why people seem so pre-occupied with snakes. They don't bother you if you don't step on them. So watch where you stick your feet as you are walking along!

I set off on 2.1 miles on Dutchman's (104) from Boulder Canyon to Terrapin.

Then, 3 miles on Terrapin (234) from Dutchman's to Bluff Springs.

And finally, 2.4 miles on Bluff Springs (235) from Terrapin to Peralta TH.

Day 2 ended up being 12.74 miles and 2305' ascent and 2205' descent in 7:52 moving time.